My poor sad camera is at the repair shop this week, hence the spotty posting...
I am seriously hard on cameras (like throw-them-on-the-ground-by-accident-at-regular-three-month-intervals hard) but I've been putting off taking it in since I feel naked without it. While I wait for it to return to me I figure it's a good time to check in on some recent Williamsburg happenings.
First up,
Tiny Empire
, my latest obsession. It's a ridiculously twee and amazing juice shop that sells ridiculously twee and delicious $10 cold pressed juices (think kale and pear or beet and carrot.) It's just the kind of non-decadent decadent thing to do after a weekend of epic Brooklyn brunches.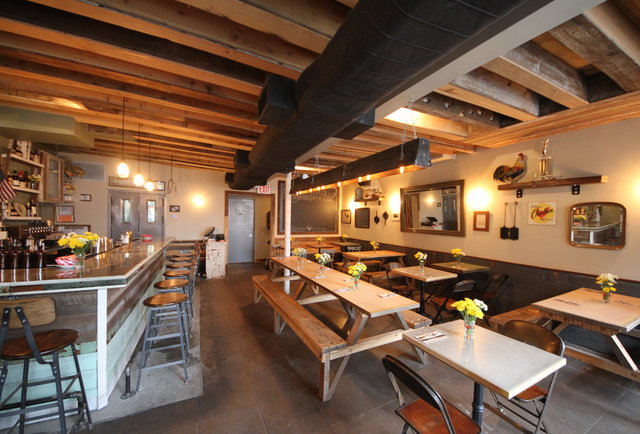 Sweet Chick via Thrillist
Then there's
Sweet Chick
, which opened a stone's throw from our apartment today. This place is dedicated to its namesake dish, fried chicken and waffles (talk about mixed messages Williamsburg.) It's the sort of place that serves artisan-made soda water and fancy cocktails along with its pseudo-ironic hearty fare, but when I walked past it tonight it looked cozy and well lit.
Aska via Bon Appetit
Frankly, we've missed out on a lot of the Williamsburg openings lately. I suppose with a new (okay, new-
ish
) baby we tend to stick to what's tried and true (spots like Fada, Walter Foods, and Spritzenhaus.) But it seems like every day somewhere new is opening its doors, selling oysters and absinthe or organic doughnuts or exotic sausages. There's even a
Scandinavian
restaurant with a very esoteric tasting menu that includes ingredients like lichen.
When I moved here nearly ten years ago, there were very cool things going on here, but you had to seek them out. Have an address in your back pocket.
Today, there are moments when I find myself in a boutique like
Brooklyn Fox
, eyeballing a $400 top and wondering where the heck I am. It's fairly disorienting to see so much slickness proliferating and to see hip young tourists wandering Bedford Avenue with maps in hand. I sometimes feel like I'm having an out of body experience, unsure whether I've been teleported to Tribeca or L.A.
The Ides
? It definitely feels like a Manhattanized version of a neighborhood I used to know really well.
Bamonte's via Saveur
I can hardly complain (after all, I actually
bought
that kale juice.)
But I'm still glad that the old school joints like
Bamonte's
are still going strong. Hopefully Axel will someday be able to remember living in a quirky place called Brooklyn, before
Williamsburg was big in Sweden
or lampooned on the cover of the New Yorker.
The New Yorker